The museum and stable café are closed for the season. We will return with an opening date for 2022 later.
Book by phone 0431-311 860 or email info@birgitnilsson.com
Exhibition with audio guide – SEK 120
Children under 16 years: free admission
Guided tour of the house – SEK 80
Children under 16 years: free admission
Welcome to visit the museum
We are closed for the season. We will return with an opening date for 2022 later.
Security in the prevailing situation
To ensure the safety of our visitors and employees, we have taken a number of measures in the business.
Visits to exhibitions and house must be pre-booked!
This means, among other things:
Limited number of visitors to the museum
Limited number of people per viewing in the childhood home
Increased cleaning frequency in the premises
Hand alcohol placed on the premises
Cleaning of audio guides and headphones for each user
Limited number of seats in the cinema
More space between seats in the Stable Café and in the courtyard
The measures can be updated in accordance with the Swedish
Public Health Agency's recommendations.
We encourage you as a visitor to think about distance from others and stay home at the slightest symptom.
Together we create a safe experience with us!
The farmhouse cannot be accessed by wheelchair or zimmer-frame. However we can offer chairs to visitors who need them.
All other parts of the museum have easy access, including the café.
Photographing
Photography is allowed outdoors and in our Stable Café
Smoking
Smoking is only allowed at the signposted place by the parking lot.
WiFi
Around the farm we have a wireless network available to our visitors – free of charge, of course!
How to book a guided tour of the house
The farmhouse is only available to visit with a guide and a guided tour must be pre-booked. Visitor numbers are limited and estimated viewing time is approx. 30 minutes. Reservations are made by phone 0431-31 18 60 or E-mail to info@birgitnilsson.com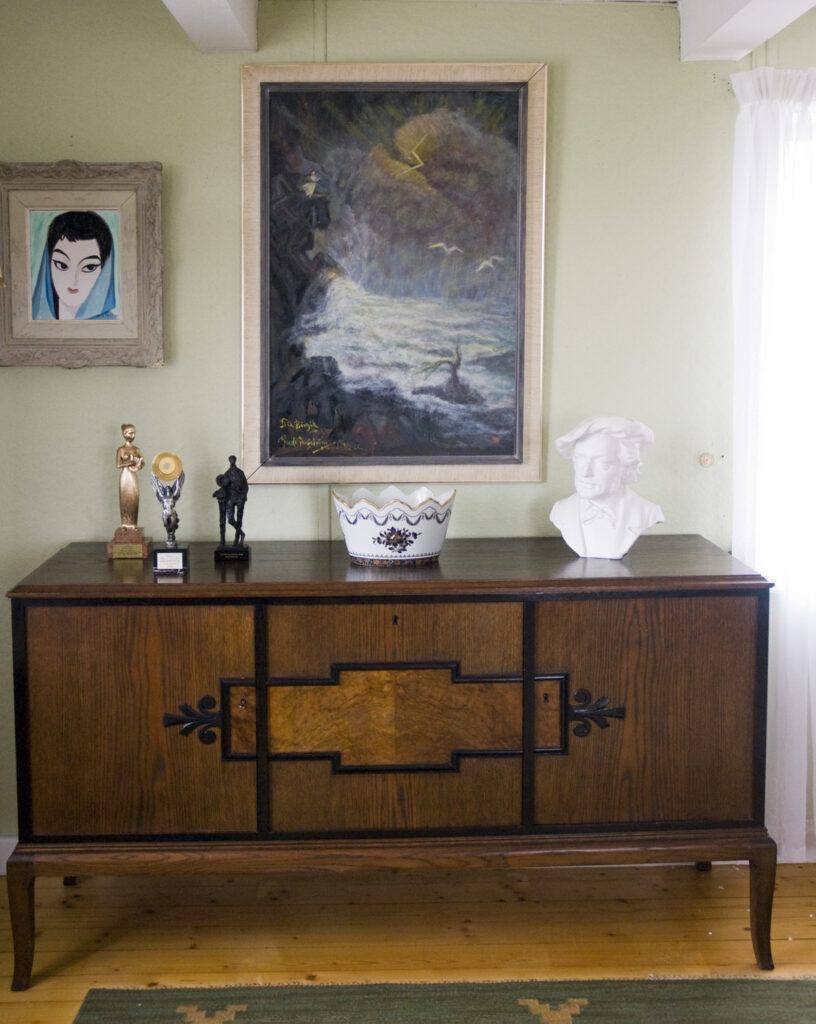 You can always have a coffee in our fantastic stable café without paying admission to the museum.
Welcome to our Stable café
The stable has been carefully renovated and preserved in as original a condition as possible. The stable's brick floor is the same as in Birgit's time and the heritage remains as both a time document and a reminder of Birgit's roots.
In this very stable, Birgit milked the cows the evening before she left for Stockholm to take the entrance exam for the Royal Academy of Music's solo singing class.
The stable café has no entrance fee and the same opening hours as the museum.
In a beautiful, tranquil and authentic environment we serve, among other things, nutritious sandwiches and various homemade cakes, including our popular Aidatårta, made according to Birgit's own recipe. Sit down in one of the pig pens and look out over the courtyard or the lush greenery of the meadows.
Weather permitting, visitors can also enjoy coffee outside at one of our cafe tables in the courtyard.
Around the farm we have free Wi-Fi available to our visitors.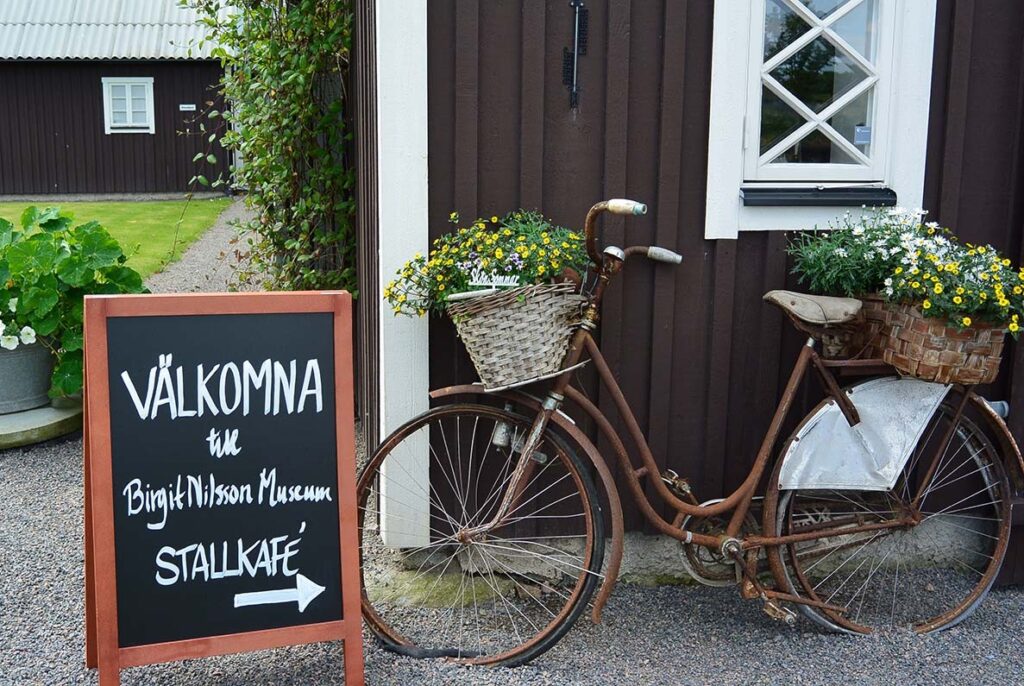 In the main entrance you can buy a ticket for the museum and book a guided tour. Adjacent is a shop with books, music, films, souvenirs and more to buy.
You also have the opportunity to purchase gift cards and season tickets. It is possible to pay in cash or by card, but not with American Express.
During pre- and post-season
We welcome booked group visits during the pre- and post-season.
The pre-season runs from May 10 to June 24 and the post-season from September 7 to September 30.
Group size
We welcome groups from 16-50 people including driver and travel guide.
A discount is given at the entrance.
Prices for group booking
Admission prices per person Guided tour of the house: SEK 80 Exhibition with audio guide: SEK 80 (regular price SEK 120)
Café prices per person Coffee / tea with påtår – SEK 25 Stallkaféet's cake plate – SEK 60 wheat bread, carrot cake and Stallkaféet's small bread Birgits Aidatårta with fresh berries and cream – SEK 50 chocolate meringue base with hazelnuts and chocolate buttercream Birgits Apelsinkaka – SEK 30 sponge cake flavored with orange Half rye bun with cheese or ham – SEK 25 with salad and vegetables
Covid-19 and group bookings
We follow the Public Health Agency's guidelines.
Be patient with the fact that our reception at the entrance takes longer for us to be able to keep our distance.
We all have a responsibility to ensure that visitors keep their distance from each other and stay at home at the slightest symptom.
How to plan your group booking
You can reach us most easily by sending an e-mail to info@birgitnilsson.com You can also call 0431-311 860 and leave a message on the answering machine, and we will contact you as soon as we can.
In Stallkaféet we can offer coffee, tea, homemade cakes and sandwiches according to your wishes. Notify us of requests for special diets no later than five days before the visit, so that we can offer alternatives. No later than five days before the visit, we need to know how many of you are in the group and possibly. special diet.
For the best route to the museum, read more under contact.
We want you who arrive by bus to stay on the bus to wait for the museum staff, who will inform you about the structure and content of the visit.
If you have chosen a guided tour of the house, you will be divided into smaller groups. The viewing time is 30 minutes per group.
Group visitors experience the exhibition with audio guide, cinema and media room on their own.
Everything is ready-made in the Stable Café based on your order.
This special landscape meant a lot to Birgit and there are many "smultonställen" to explore. From Swedish this literally translates to "wild strawberry places" but what it really means is "special places". We have therefore collected tips that we think can be helpful for those who are interested in exploring.