Hiking in Birgit Nilsson's footsteps
The trail follows the paths through the Bjäre countryside which Birgit regularly walked and cycled herself, as she went to sing in the local church choir or met up with friends.
Even when the Birgit Nilsson Museum and Stable Café are closed, you can follow the walk and experience part of Birgit's history.
You can easily follow the hiking trail using the map available in the Museum's car park, which is both the start and finishing point of the walk.
Along the way you will find four signs with historical information and QR codes which you can scan on your mobile and listen to Birgit's own voice.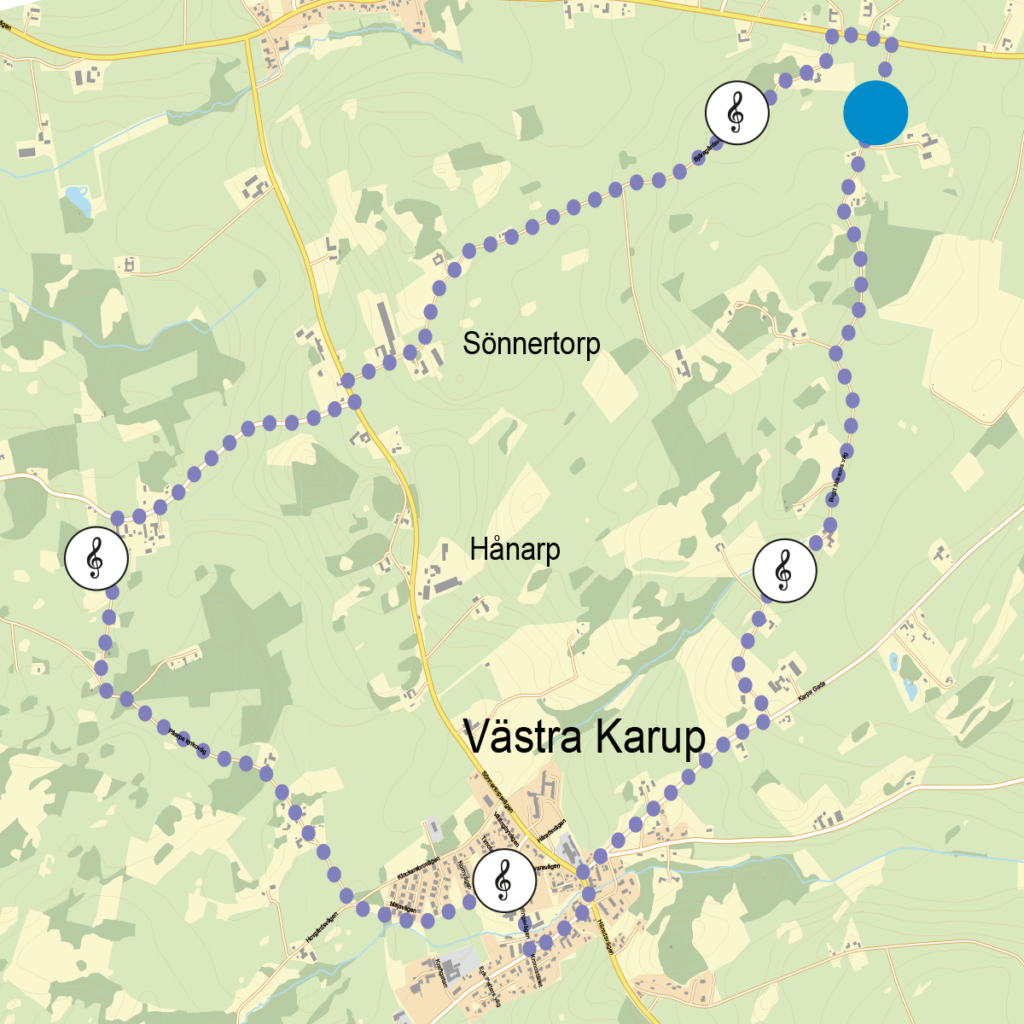 The trail follows country roads and gravel paths – both of which are easily possible for families with prams.
We recommend walking anti-clockwise as the signs then appear in chronological order. The entire walks takes approx. 2 hours
Hike the paths and roads that Birgit often cycled
Enjoy the hilly landscape of the Bjäre Peninsula and beautiful views
There are many beautiful viewpoints along the trail, so we recommend that you bring a picnic.
During Stallkafeét's opening hours, you have the opportunity to buy our finished "Hiking coffee". Read more about it here.
The hiking trail starts and ends in the Museum's car park. In a scenic environment among rolling landscapes, you walk a total of 9 km, mainly on paved roads. The hiking trail is  therefore accessible to everyone. Follow the signs with the G-clef on to find your way around.
Get here by public transport
With Skånetrafiken's bus line 523, you travel to the stop Birgit Nilsson Museum. Tuesdays – Fridays only.
Respect cultivated land and grassland that is to be used as feed for the neighbor's animals, but feel free to settle down in other scenic places along the hiking trail.
Waste sorting
Take care of nature and always bring picnic packaging and other packaging back. There are no bins along the trail.
Västra Karup Church is one of the major attractions along the trail. It was Birgit's home church and it was close to her heart. 
This is where she started singing in the choir and was confirmed. Later she also gave many of her home concerts in this church. Her grave is also here and is visited annually by many nationalities.