The place that gave birth to a dream
Experience the farm where Birgit Nilsson played as a child and where she dreamed of a life in the world of song and opera!
Birgit Nilsson grew up here, on a farm in Svenstad in southern Sweden. The farm has been owned by the family since the 18th century and is now a museum dedicated to "La Nilsson".
Birgit Nilsson lived on the farm with her parents until she was 23 years old. It was a simple upbringing without electricity or running water, both of which were only installed in the 1930's.
Birgit helped with all the chores on the farm. She thinned beets, planted potatoes, harvested hay and milked cows. In other words, it was a life far removed from what she would later experience as one of the world's most famous opera singers.
The Birgit Nilsson Museum gives you the chance to follow the journey from her roots to the Metropolitan.
Watch the documentary "From Potatoes to Opera"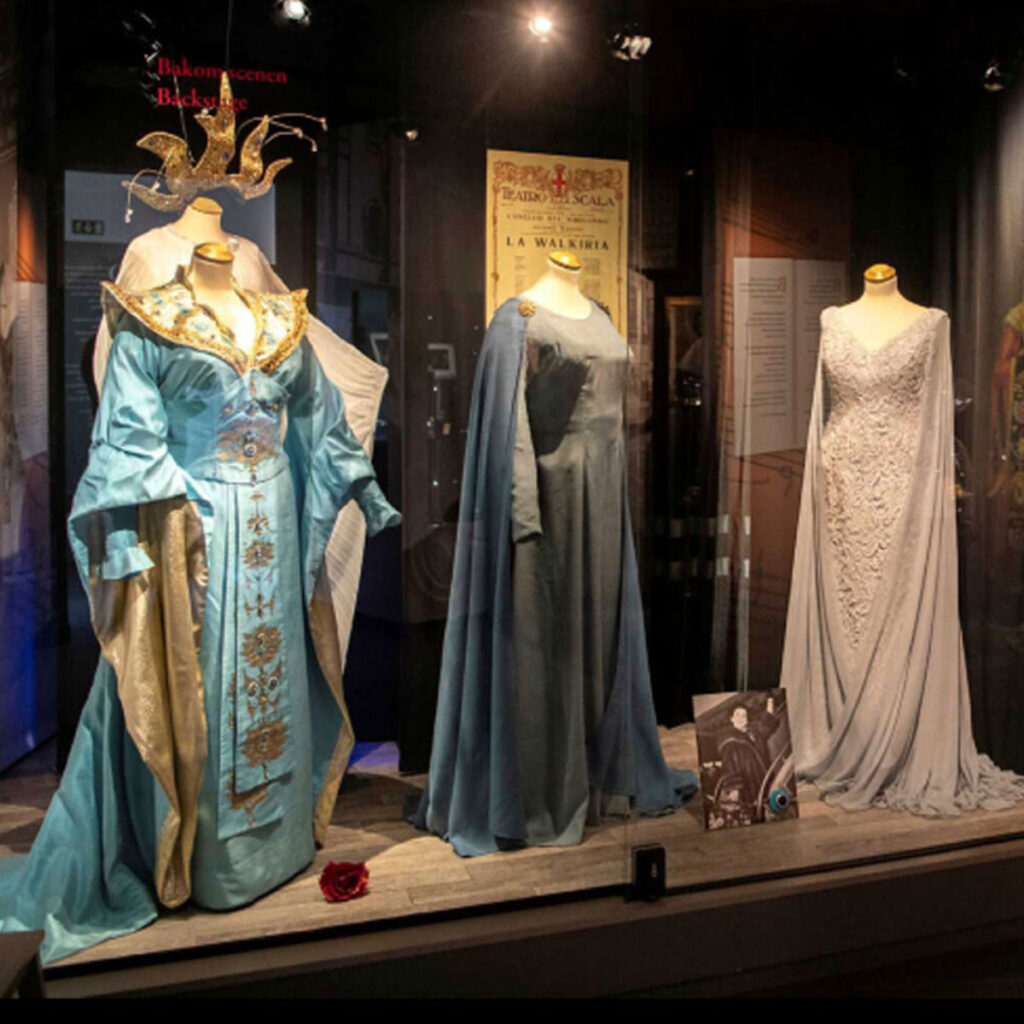 An exhibition for all senses
The exhibition theme is new every season. The theme for 2021 is "Birgit Nilsson – on the world stages."
The exhibitions are combined with a rich audio guide that offers an in-depth experience of an outstanding operatic career. The audio guide is available in Swedish, English and German.
In the cinema you can also experience Birgit's voice and stage presence. Also, do not miss the media room, which contains unique material.
Don't miss out on the Aida cake
In our popular café in the farm's old stable, we serve homemade delicacies.
In addition to hearty sandwiches and various homemade cakes, we also serve the popular Aidatårtan, which is made according to Birgit's recipe.
The stable café has been carefully renovated to provide a reminder of Birgit's roots and offers a beautiful and tranquil environment.
Weather permitting, you can also have coffee in the sunny courtyard.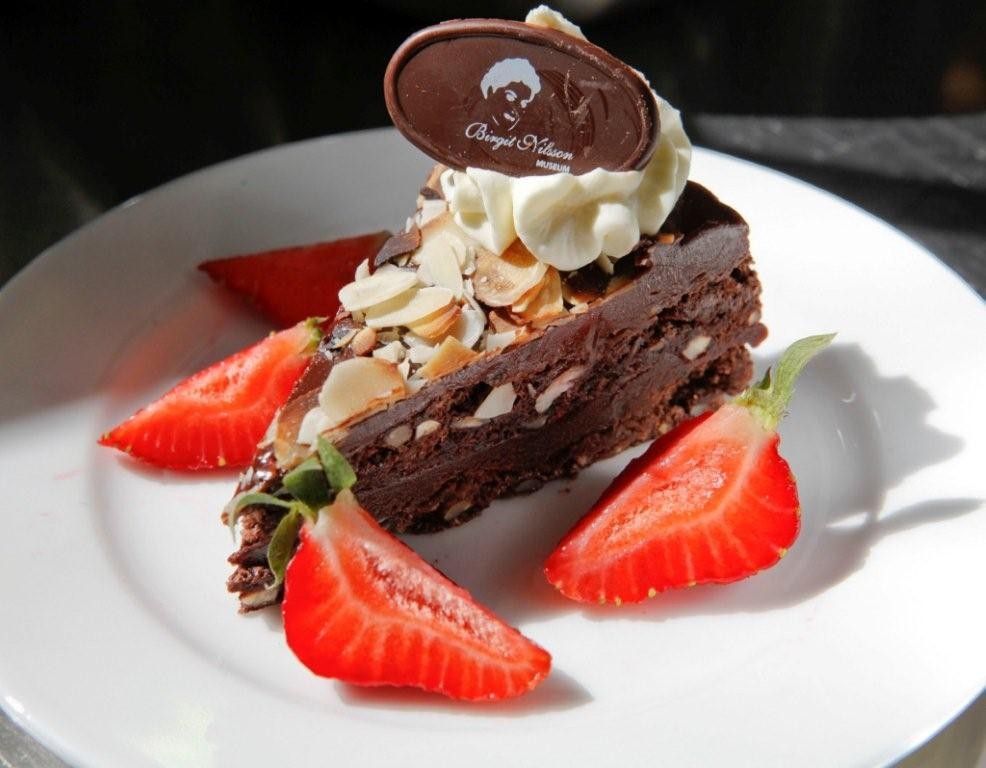 To provide as safe an experience as possible for visitors and employees, we have:
Limited number of visitors to the museum, cinema and childhood home.
Increased cleaning frequency and hand alcohol placed on the premises.
Cleaning of audio guides and headphones after each user.
More space between seats in the Stable Café and in the courtyard.
Welcome in!
The theme for this year's exhibition is Birgit Nilsson – on the world stages.
This year's exhibition invites visitors to discover many new opera treasures, giving an in-depth experience through stories and anecdotes about Birgit –  her upbringing, the opera world and her love for Bertil, her husband. Plus music from some of her most well known operatic roles.
Do not miss Birgit's story of her first visit to Buenos Aires in 1955.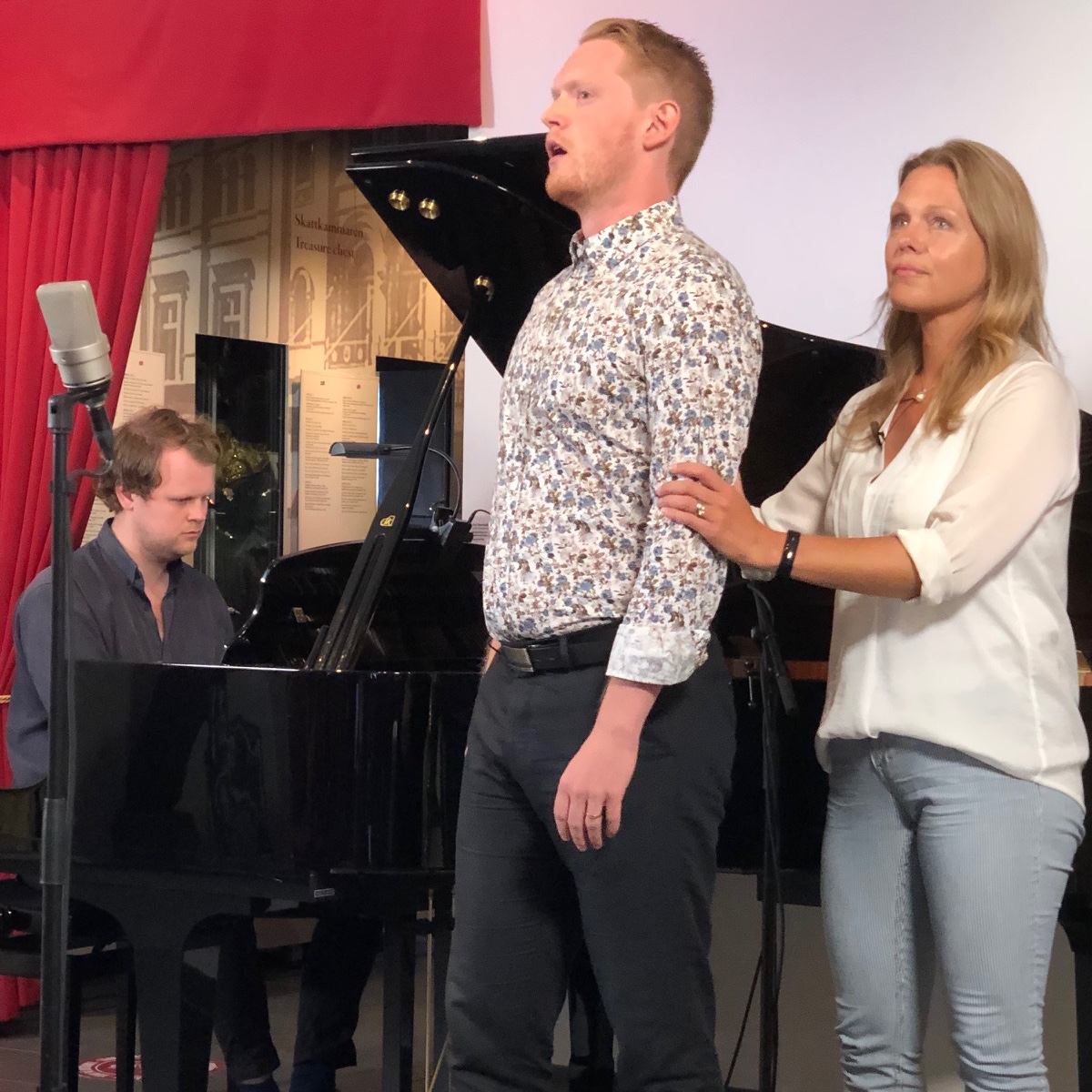 We live-stream some of our events and concerts that are arranged at Birgit Nilsson Museum. Here you can see the entire archive.
Birgit Nilsson Museum and Stallkafé are closed for the season. We will return with an opening date for 2022 later.
Book by phone 0431-311 860 or email info@birgitnilsson.com
Here you can join a guided tour of Birgit Nilsson's parents' home, with lots of memories from both her childhood and fantastic career.
The house is preserved in the same condition as when Birgit last lived here.
The viewings must be pre-booked and, because the house has limited accessibility, visitors in wheelchairs or with zimmer-frames are not able to enter. Please note however that wheelchair and zimmerframe visitors easily can access the museum and café .
Make your group booking via e-mail info@birgitnilsson.com or telephone: (+46) 0431-31 18 60
The museum welcomes group bookings during both pre- and post-season. The visits are adapted based on prevailing circumstances and restrictions and all visitors are encouraged to keep their distance and follow the instructions on site.
Make your group booking via e-mail info@birgitnilsson.com or telephone: (+46) 0431-31 18 60
Birgit Nilsson Sällskapet
The Birgit Nilsson Society welcomes you to be a member of a lively association that works to preserve the memory of one of  the most admired operatic voices in modern history, La Nilsson.
The Society also works in spreading knowledge about Birgit Nilsson's contributions to the development of opera singing.
This summer led by Miah Persson
The 2021 Birgit Nilsson Days take place for the fourth year in a row in the opera star's home region of Västra Karup. This summer they are scheduled to take place from 9 – 14 August and will be streamed live.
The week of 9-12 August begins with the Birgit Nilsson Master Class for promising young opera singers and is led by soprano Miah Persson. The work culminates in a concert in Västra Karup's church on 12 August.